Winter-Ready Your House Now While It's Fall
There are the basics – clean out the gutters, make sure the windows and doors have weather stripping to block out the cold – but here are a few more tricks of the trade to make your home cozier, headache-free, and more winter-ready.
Check windows and doors for drafts
Living in the Bay area, we're lucky enough not to have snow storms, but we do have one of the highest cost of living in the nation and so anything that helps keep the heat in and the cold out during the cold season helps. Check for drafts seeping into the house and replace rubber seals and get door draft stoppers where necessary.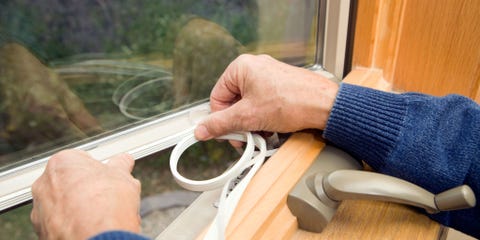 Feed the lawn now for thicker grass in the spring
For your grassy area in the backyard, or if you are fortunate enough to have a lawn in the city, take advantage of this window to do lawn care now to reap the benefits in the Spring:
The secret is knowing that the mix of warm soil and cooler November air creates ideal conditions for thickening a thin, sad-looking lawn. If you live in a cooler part of the city and your lawn has grasses like Kentucky bluegrass, fine fescue, perennial ryegrass, or tall fescue, make the most of the opportunity and check out products you can use to fill in gaps (products like Scotts® Turf Builder® Thick'R® Lawn) which improves your soil for root development and give you thicker, greener grass by Spring.
Watch for rodents
The last thing people want while relaxing indoors is to find unwanted guests like mice nesting in the basement or garage. These rodents are unsanitary, will give you health problems, and can damage wiring, insulation and wood. To deter mice, store food – especially pet food and wild bird seed – in hard containers with fitted lids. If there are signs of mouse presence, set a trap and check and empty it regularly. If you don't want to dispose of dead rodents, Tomcat® Mouse Killer Child & Dog Resistant, Refillable Station makes it easier by killing up to 12 mice per 1-ounce bait block, based on no-choice laboratory testing. It's a weather resistant bait station, which is great for indoor and outdoor use.
Tune up the furnace
A furnace needs a check-up in the Fall (or now is a good time) to ensure it is free of mechanical issues that could lead to a full breakdown in the middle of winter. You can call an HVAC technician to do a top-to-bottom furnace inspection, and tune it up to make sure it's ready to keep everyone in the house warm all winter long. After inspection, maximize its life by changing the filters regularly, and vacuuming the registers.
Clear debris from gutters and drain spouts
While it's still Fall, it's a good time for homeowners to clear leaves and other debris from gutters and drain sprouts now. Or blockages can form, leading to water backups that do damage to your roof. A stable/versatile ladder, a pair of work gloves, trowel and container to catch debris are all that's needed to get the job done in one afternoon. It's messy work, but a sure way to prevent many colder weather headaches and inconveniences.
Getting your home in shape now – inside and out – while it's still Fall will make way for stress-free holiday get-togethers or cozying up with hot drinks in front of football games or movies on those long, chilly nights.
Source: Kron4