Why Have Houses For Sale Increased and Sales Have Slowed Down?
According to the latest Existing Home Sales Report from the National Association of Realtors (NAR), the inventory of homes for sale this year compared to last year has increased for the last four months, all while sales of existing homes have slowed compared to last year's numbers.
Let's take a look at three monumental culprits:
1. Interest Rates
Since January, 30-year fixed mortgage interest rates have increased nearly a full percentage point (from 3.95% to 4.9%). Fannie Mae, Freddie Mac, the National Association of Realtors, and the Mortgage Bankers Association are all in agreement that rates will continue to increase to about 5.2% over the next 12 months.

2. Mismatch of Inventory
Elizabeth Mendenhall, President of NAR, said it best –
"Despite small month over month increases, the share of first-time buyers in the market continues to underwhelm because there are simply not enough listings in their price range."
According to the Institute of Luxury Home Market's Luxury Market Report, the $1M-and-up price range is now experiencing a buyer's market. This means that supply (inventory) has finally caught up with demand and buyers are in the driver's seat when it comes to negotiations. Additionally, many listings in this price range have experienced price cuts in order to entice buyers to put in offers.

3. Natural Disasters
Although not fully to blame for the national shortage in sales and inventory, natural disasters like the recent Camp Fire wildfire and preceding wildfires that has devastated California, Utah, Colorado, Nevada, Washington State and Oregon wildfires this year alone, along with Hurricane Florence, Hurricane Michael, landslides, floods, tornadoes – all have certainly had an enormous impact.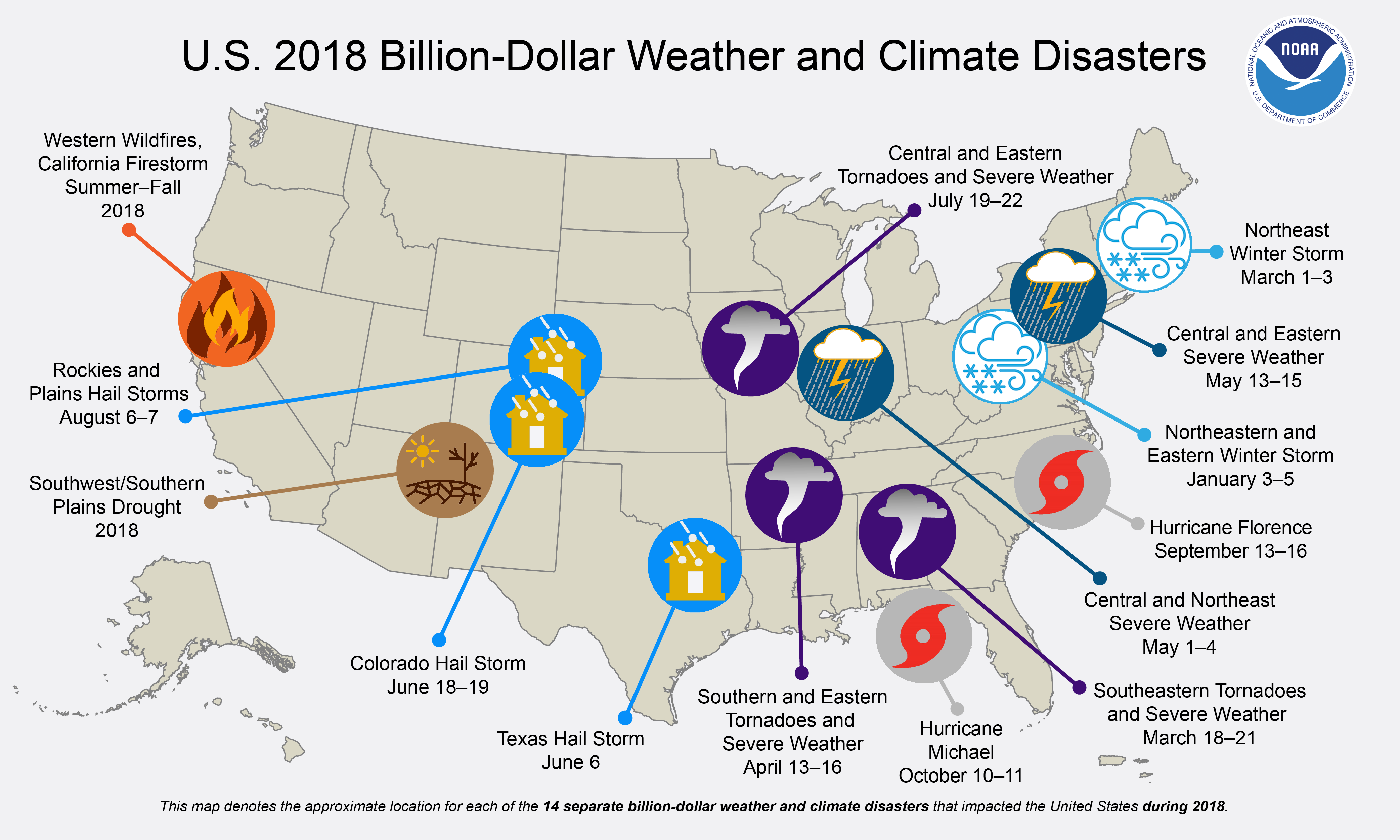 Photo: National Climatic Data Center – NOAA
The Housing Market Forecast:
According to the California Association of Realtors, forecast in 2019 will see a modest decline in existing single-family home sales of 3.3 percent in 2019 to reach 396,800 units, which is down from the projected 2018 sales figure of 410,460. The 2018 figure is also 3.2 percent lower compared with the 424,100 pace of homes sold in 2017.
"While home prices are predicted to temper next year, interest rates will likely rise and compound housing affordability issues," said C.A.R. President Steve White. "Would-be buyers who are concerned that home prices may have peaked will wait on the sidelines until they have more clarity on where the housing market is headed. This could hold back housing demand and hamper home sales in 2019."
Outmigration ("Californians moving out") is a result of the state's housing affordability issue, will also be a primary concern for the California housing market in 2019 as interest rates are expected to rise further next year. The average for 30-year, fixed mortgage interest rates is expected rise to 5.2 percent in 2019, up from 4.7 percent in 2018 and 4.0 percent in 2017, but will still remain low by historical standards.
The surge in home prices over the past few years due to the housing supply shortage has finally taken a toll on the market," said C.A.R. Senior Vice President and Chief Economist Leslie Appleton-Young. "Despite an improvement in supply conditions, there is a high level of uncertainty about the direction of the market that is affecting home-buying decisions. This psychological effect is creating a mismatch in price expectations between buyers and sellers and will limit price growth in the upcoming year."
For those who prefer to see numbers, below is a breakdown of next year (2019) California Housing Forecast:
Sources: California Association of Realtors, Keeping Current Matters, Wolf Street