Vote – Where to Go, What to Do, Who & What to Vote For
Midterm elections is today, November 6. If you are not one of the many who voted early or already voted by mail, take advantage of this cheat sheet below to help you understand what or who to vote for. If you are unsure what to expect once you make your way inside the ballot box, it's not too late to study before voting – polls close at 8 p.m. today, Tuesday, November 6. Scroll down below to get educated.

First, what to expect:
Some big ticket names will appear on the ballot, like Sen. Dianne Feinstein, who's running for reelection, and Lt. Gov Gavin Newsom, the former San Francisco mayor who seeks to take the throne in Sacramento as the next governor of California.
Source: Associated Press
In addition to important seats, there are equally critical state initiatives like Proposition 10, which could roll back restrictions on rent control in California. There are also key propositions in San Francisco, one of which would place a tax on tech companies to help fund homeless services, an issue that made tech giants argue with each other over social media.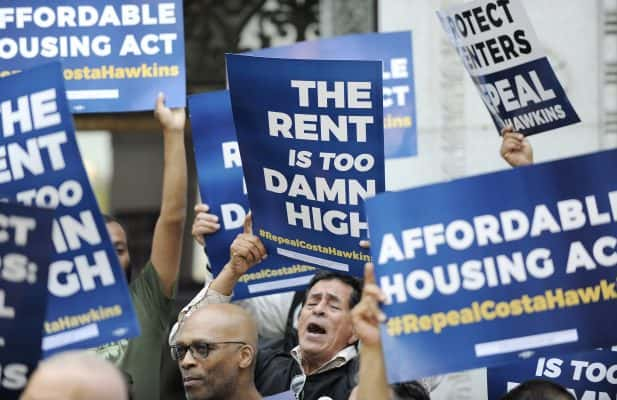 There are also a slew of denizens vying to be your next San Francisco neighborhood supervisor, including the expansive and socio-economically diverse District Six, which makes up Mid-Market, SoMa, South Beach, Mission Bay, and Treasure Island and parts of the Tenderloin and the East Cut. Whew.
Where to go
To find your polling station, here's where you need to go, what to bring, and what to know today, click here.

What time to vote
Polls open in San Francisco at 7 a.m. and stay open until 8 p.m.. Please note: If you're in line at 8 p.m., you're allowed to vote. What's more, you're guaranteed the right to take time off work to vote. You can take off a maximum of two hours on Election Day, no matter your job. Familiarize yourself with the SF voters' bill of rights beforehand.
Where to find your polling place
Not sure where exactly to vote? There are several ways to find out. Enter your address at California's Find My Polling Place or ask Google.
San Francisco, you can find your polling place here.
Alameda County, find your polling station here.
Marin County, find your polling station here.
Your polling place is listed on the back of your sample ballot, but if you've misplaced it, don't worry. This state website lets you plug in your address to find out where you need to go.
Who to vote for
We won't tell you whom or what to vote for in the election, obviously. But any online search will bring up a slew of voting guides. Check out a list of local publications' and advocacy groups' endorsements.
What to do if you're harassed while voting
Seeing as how this has been both a dividing and violent election season, it's always a small possibility that there could be instances of voter intimidation on Tuesday. If you see something that's not right, contact the California Secretary of State or Election Protection at 1-866-OUR-VOTE (1-866-687-8683).
Can you take a selfie in the voting booth?
Yes! Unlike the 2016 election, it is now legal to snap a selfie inside the voting booth!


Start Your Crash Course:
The real estate site, SF Curbed, has selected the propositions and elections for you that will have an impact on housing and infrastructure in San Francisco.
California
Proposition 1
Originally known as Senate Bill 3, Proposition 1 will authorize the state to take out $4 billion in bonds and put the money toward existing affordable housing programs. Of that sum, $1 billion will be earmarked specifically for programs that provide housing subsidies to veterans.
Learn all about Proposition 1—who's behind it and who's against it.
Proposition 5
Proposition 5 is a small but significant tweak to Proposition 13, a 1978 ballot measure that cut property taxes statewide. If passed, it would allow homeowners who are 55 years of age or older or are severely disabled to continue paying property taxes based on the assessed value of their current homes when they sell and then purchase a new residence. The same goes for residents in areas affected by natural disasters.
Explore more about Proposition 5 and how it came to fruition.
Proposition 6
Proposition 6 repeals a tax on gasoline and motorized vehicles signed into law last year. That tax is often called Senate Bill 1 (or SB1, for short). It's expected to produce $54 billion over the next 10 years for transportation infrastructure across the state, including public transit projects, road resurfacing, and repairs of bridges and freeways.
Dive into Proposition 6 to learn what impact it will have on San Francisco.
Proposition 10
If passed it will undo the state's 1995 Costa Hawkins Act and allow cities to expand rent control in the state for the first time, if they so choose. It's also one of the most contentious propositions on the ballot this election, with housing advocates championing it and Wall Street firms pouring millions into defeating it.
Learn all about the plan to repeal the Costa Hawkins Act and how it's divided many San Franciscans.

San Francisco
Proposition A
Proposition A will authorize the state to take out $425 million in bonds and put the money toward fixing up the Embarcadero Seawall, which is presently in disrepair. A seemingly boring issue, this repair is, in fact, much needed as San Francisco awaits the next big earthquake to strike.
Learn all about how this proposition is trying to fix city infrastructure before the next major earthquake.
Proposition C
Proposition C will will increase gross receipts taxes by slightly more than 0.5 percent on companies with more than $50 million in annual revenue and use the money to fund homeless services in the city, potentially raising hundreds of millions of dollars for city initiatives. The proposition has divided tech giants (Salesforce CEO Marc Benioff and Twitter cofounder Jack Dorsey sparred over it on social media), publications, and civic leaders.
From politicos to publications, read all about why people are passionate—and passionately angry—about this one.
San Francisco Board of Supervisors candidates
San Francisco is broken up into 11 districts. Each district gets its own elected official to act on its behalf at City Hall. Of those eleven seats, five of them are up for vote. Two incumbents are termed out of office and two will run for reelection. Who do you want echoing your voice at City Hall?
Find out who's running in which district and what they have to say about housing.

Source: SF Curbed, Inside