Update on the Modernization of Caltrain
After years of record-setting ridership growth in the Bay Area, high demand for Caltrain's service has outgrown the system's existing outdated infrastructure, per Mass Transit. And without an investment in system performance and capacity, Caltrain will eventually be unable to meet the continuing demands of Bay Area commuters.
Photo of Caltrain on 4th & King St, courtesy of Paul Frankenstein/Flickr
Photo courtesy of greencaltrain.com
This is why it's key that Caltrain modernize itself. Enter the Caltrain Modernization Program (CalMod) – which is Caltrain's solution to this issue.
Photo courtesy of Mass Transit Mag
Last year, SocketSite reported that Caltrain's electrification and modernization project seemed solid and set for December of 2021. This, despite that the projected timeline to complete the first 8 miles of electrified track and testing was already running 6 months behind the proposed schedule.
Photo: calmod.org
Recently, Caltrain's electrification and modernization project was officially pushed back from December 2021 to May of 2022. The milestone was previously known as "Pre-Revenue Testing" but now renamed "Phased Revenue Service" to maintain an official "service" date by the end of 2021.
Caltrain Electrification visualization courtesy of
San Francisco County Transportation Authority
Below is the report, courtesy of SocketSite: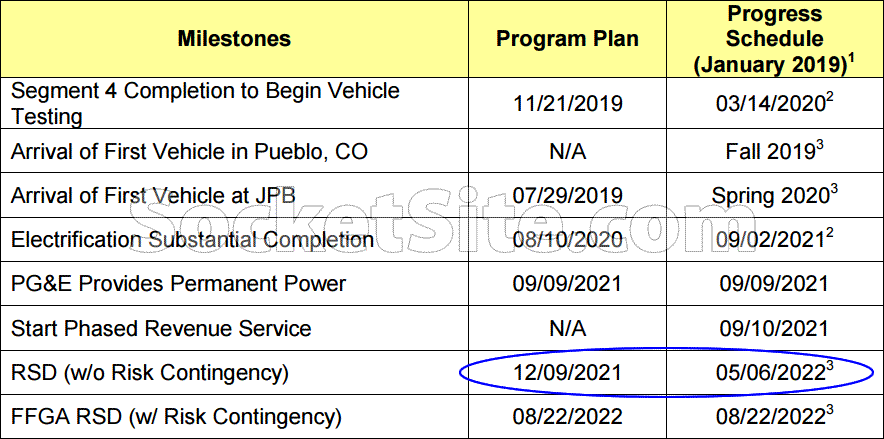 The cause of delay, of course, is money. The initial expected cost was $1.5 billion and be planned operation was this year, 2019. However, the budget to electrify Caltrain has increased and revised to $1.98 billion, including a $316 million contingency fund.
Why so expensive?
Per Caltrain, which refers to the project as CalMod (short for Caltrain Modernization Program),
"Caltrain Electrification will electrify the corridor from San Francisco to San Jose and will replace 75% of Caltrain's diesel service with electric – providing cleaner, greener, and better service to the Caltrain community."

"[The electrification] will upgrade the performance, efficiency, capacity, safety and reliability of Caltrain's service. Electrification provides the foundation that future CalMod improvements are based on, including full conversion to an electric fleet, platform and station improvements, the extension of service to Downtown San Francisco, and other projects that allow Caltrain to grow and evolve with the Bay Area."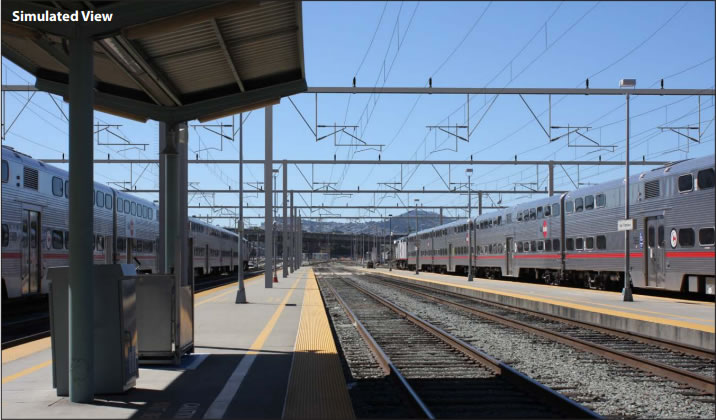 Photo courtesy of SocketSite
Photo: Patch

Photo: calmod.org
What sorts of improvement will commuters feel?
Caltrain says it means enhanced on-board amenities and comfort, the new electric trains will feature reduced travel time and engine noise, increased capacity, and clean air technology.
Photo: Caltrain Electrification courtesy of San Jose – Denver
Examine the Caltrain Modernization Arrow infographic below, courtesy of Caltrain:
Source: Mass Transit, SocketSite, Caltrain.com