Treasure Island is Next to be Developed After Passing the Navy's Radiation Tests
According to a U.S. Navy report recently released, Treasure Island residents have nothing to worry about concerning any radioactive remnants of nuclear testing at the one-time naval base that is Treasure Island, nor do they have anything to worry regarding the dishonored company Tetra Tech's work at Treasure Island.
Tetra Tech was the company whose workers had covered up the results of radiation tests at Hunters Point and who also worked on Navy cleanup efforts on Treasure Island.
Photo: NBC Bay Area
The Navy's audit concerning Treasure Island said:
Tetra Tech EC was specifically the reason for this extra scrutiny: "Recent reporting in various media about work performed for the Navy by Tetra Tech EC (TTEC) at Treasure Island has generated community concerns and questions about the environmental site conditions at Treasure Island and reuse."
Photo of Treasure Island courtesy of KQED
Tetra Tech EC employees performed some soil analysis on Treasure Island similar to its work at Hunters Point: "TTEC analyzed up to 50 soil samples for gamma spectrometry collected during the non-radiological Feasibility Study data gap sampling […] and, provided radiological support during groundwater monitoring and well head repair."
Photo: Conservative Daily Post
But Tetra Tech EC did not have sole access to or authority on any element of the project: "All areas under radiological control were managed by other contractors before and after TTEC performed their work." Navy auditors add, "the work was substantially limited in time and scope."
Photo: Tetra Technologies
The Navy says it found nothing wrong with Tetra Tech EC's work at the site:"Work performed for radiological monitoring and compliance support has been determined to be consistent and accurate."
Photo: wanderingisite.com
The Navy's report insists that there is no public health danger or any radioactive remnants on the island: "The Navy wants the public to know that the site conditions at Treasure Island present no health risk to those who live on, work on, or visit Treasure Island. […] No contamination was found before or after TTEC conducted their work. […] here is no radiological health risk to the community." Therefore, Treasure Island has a legitimate green light to build homes.
"The Navy concludes that those living and working on Site 12 are not at risk because the remediation "was conducted with close review and oversight by CPDH and the Navy" and "independent confirmation surveys" were conducted," reports the SF Examiner.
Parcels 30 and 31 are seen in the distance as a truck works on a construction project nearby along Avenue of the Palms on Treasure Island. Photo by Jessica Christian/2017 S.F. Examiner
It's unfortunate that Tetra Tech EC's employees reportedly rigged and forged soil tests at Hunters Point in 2017 to cover up residual radiation at the site in order to get approval to build thousands of new homes. It's also unfortunate that two former Tetra Tech EC employees received 8-month prison sentences for it, with more of the company's managers possibly heading down the same fate.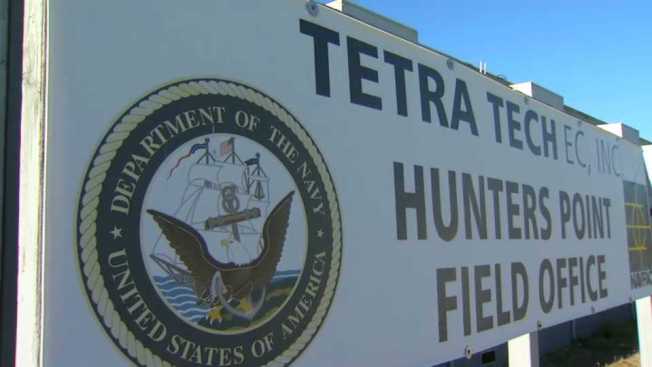 Photo: NBC Bay Area
David Anton, a lawyer representing Tetra Tech whistleblowers, is skeptical about the Navy's recent report in comments to the San Francisco Examiner, saying that the Navy also did not notice any problems at Hunters Point for many years because "they weren't trying to find the problem."
"It's really sad the level of analysis the Navy is engaged in," said Anton to SF Examiner. "They won't show us the third party report that did the data review because there isn't one."
Photo of Attorney David Anton identifies the locations where contaminated soil was detected at the former Hunters Point. Courtesy of SFGate
Furthermore, in 2012, the Department of Public Health warned that past Navy efforts to decontaminate Treasure Island parcels downplayed the extent of radioactive materials on the island.
Whether we should question the Navy's credibility or not, for now, Treasure Island has the permission to proceed with the development of thousands of new homes in the coming years – a massive $6 Billion housing development to be more specific.
Photo: The Business Journals
Sources: SF Examiner, Curbed SF