Salesforce Tower Opens Free Tours of Top Floor to Non-Profits
Salesforce proudly offer event spaces to nonprofits and foundations aligned to the Salesforce's culture of giving back. If an organization focuses on humanitarian or social causes, education, or the environment, Salesforce would like to invite such organization to host events on Salesforce's Ohana Floors, which is high atop the Salesforce offices in San Francisco, Indianapolis, New York, and London.
Salesforce CEO, Marc Benioff, is Silicon Valley's Media Baron and a billionaire with a big heart.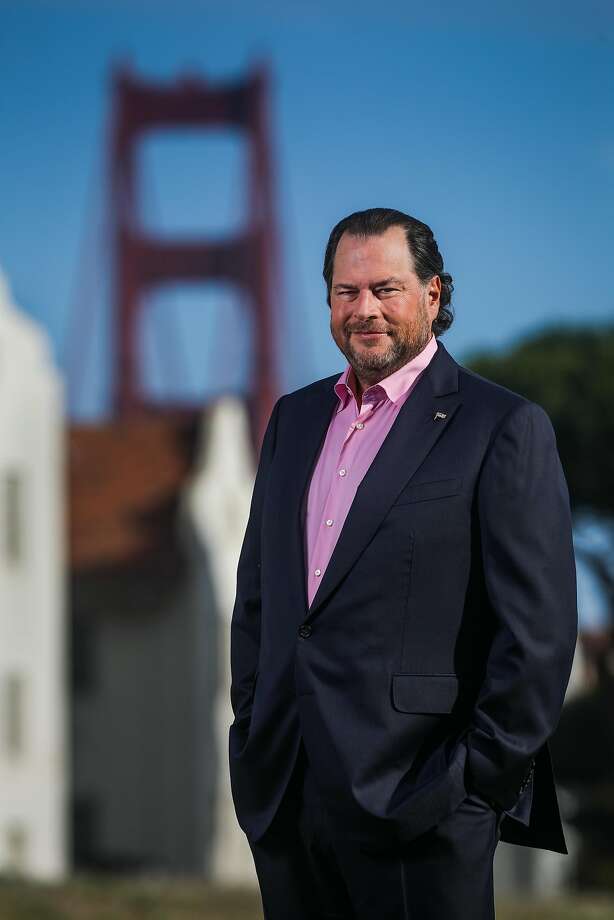 Photo: SF Chronicle
Four years ago in 2015, Benioff famously took a stand against Indiana's anti-gay law, promised more economic sanctions if the law wasn't revered, and threatened to pull his company out of the state. He cancelled all his company's events in the state of Indiana after its governor signed into law a bill that makes it legal for individuals to use religious grounds as a defense when they are sued by people who are lesbian, gay, bisexual or transgender, per report from Arik Hesseldahl at Re/code.

Photo: Asa Mathat
Benioff said in a phone interview,
"We've made significant investments in Indiana. We run major marketing events and conferences there. We're a major source of income and revenue to the state of Indiana, but we simply cannot support this kind of legislation … Salesforce employs between 2,000 and 3,000 people in the state, owing largely to its 2013 acquisition of ExactTarget, an email marketing company based in Indianapolis, which Salesforce paid $2.5 billion for … We can't bring our customers or our employees into a situation where they might be discriminated against," he said. "We have a large number of employees and customers who would be impacted dramatically by this legislation … I'm really just advocating on their behalf."
Photo: Inc.
For Salesforce, placing an emphasis on diversity, inclusion, and giving back to the community is a part of exercising good business practices. More recently, at a Salesforce Tower event, Benioff announced that top floor of the San Francisco Salesforce building – the 61st – will not be used as office space for his company. Instead, the floor will be kept as an open space to be used as a meeting area during the day and an event space open to the San Francisco community at night. The floor will be named the Ohana floor – Hawaiian for family, and a major theme in Salesforce's corporate lore.
"The entire top floor is empty, and that's really all about our ability to give back to others," Benioff told Inc. "Religious groups, nonprofits, NGOs, and schools will also be able to use that floor when we're not using it."
Photo courtesy of Curbed SF
Per Salesforce's website,
"Located on the top floor of 415 Mission Street, our Ohana Floor is a one-of-a-kind space with modern amenities and 360-degree views of the entire San Francisco Bay Area. It can accommodate up to 250 guests and is perfect for hosting charitable fundraisers, celebrations, and thank-you events."
Salesforce encourages all Bay Area community groups, local nonprofits, charities, fundraisers, NGO organizations, and other national and international charitable organizations to hold their trainings, seminars, celebrations, and other events at Salesforce's Ohana Floors. To accommodate high demand, events are limited to five hours in duration, and one event per calendar year.
The San Francisco Ohana Floor hours of operation is below:
To reserve an event, or a tour of Salesforce Ohana Floor, go here.
All Salesforce Ohana Floors nationwide and internationally are open to such organizations, not just the one in San Francisco, to reserve spaces in New York, London, and Indianapolis, click here.
The San Francisco Ohana Floor is currently sold out until August. Can't wait to see the Ohana Floor now? Take a look at these photos below taken last year on September 2018 when the floor was still furnished:
Photo courtesy of San Francisco Business Times/Todd Johnson

Photo courtesy of San Francisco Business Times/Todd Johnson

Photo courtesy of San Francisco Business Times/Todd Johnson

Photo courtesy of San Francisco Business Times/Todd Johnson

Photo courtesy of San Francisco Business Times/Todd Johnson
Photo courtesy of San Francisco Business Times/Todd Johnson
Photo courtesy of San Francisco Business Times/Todd Johnson
Photo courtesy of San Francisco Business Times/Todd Johnson
Photo courtesy of San Francisco Business Times/Todd Johnson
Photo courtesy of San Francisco Business Times/Todd Johnson
Photo courtesy of San Francisco Business Times/Todd Johnson
Photo courtesy of San Francisco Business Times/Todd Johnson
Sources: Salesforce.com, Inc., Curbed SF, The Washington Post, Recode.net, San Francisco Business Times