Neighbors Try to Stop Historic Restaurant from Reopening
Julius' Castle is a visual landmark, a castle-shaped restaurant that sits at 1541 Montgomery Street on Telegraph Hill in San Francisco.
Photo: CBS San Francisco
It served as a restaurant for over 80 years, originally opening between 1924 and 1928.
Photo: FoundSF.org
In its heyday, it was popular among celebrities, politicians and businessmen such as Robert Redford, Cary Grant, Sean Connery, Marlon Brando, Ginger Rogers, Sir Edmund Hillary, and the entire cast of the film The Empire Strikes Back (1980).
Photo: Hoodline
It made appearances in Dashiell Hamett's novels, and the 1951 film The House on Telegraph Hill was filmed at Julius' Castle.
Photo of Julius' Castle in the 1951 film The House on Telegraph Hill
The restaurant has been listed as an official San Francisco Landmark Number 121 since 1980, and it had been sitting on its current location decades before other million-dollar homes you see next to it now popped up.
Photo: SF Eater
"I dined there in the 1960s as a kid with my parents and into the '70s and '80s on my own. It just had a mystique like few other SF restaurants. Fabulous location. Give them a code variance, get the right people together and open it. We will come!," said a Joe F. in Yelp.
Julius' Castle, however, has been shuttered since 2007 and suffered minimal damage by fire in 2013. It had changed owners and managers for many years and since late 2017, current Julius' Castle owner Paul Scott has been dealing with a lawsuit that has prevented him from re-opening the restaurant.
Per Curbed SF, in October of 2017, a non-profit group called Friends of Montgomery Street (which specified three Montgomery homeowners: Johnny Lee, Gordon Francis, and Dan Lorimer) presented a lawsuit claiming that, among other things, Julius' Castle would ruin their quality of life. They said,
"Petitioners reside in a peaceful residential neighborhood where evenings are quiet and street access to their homes is safe, reliable, and expeditious. It is safe to walk across Montgomery Street at all hours, as traffic is manageable, vehicle speeds are unhurried, and street parking is not impossible to find."

"The project would be extremely disruptive to neighboring residential uses. For example, it would subject them to loud noises every evening, create traffic and parking congestion and resulting safety and pedestrian hazards for residents of the area, and substantially impair and impede their reasonable use and enjoyment of their homes."
In a response to the lawsuit, the City Attorney's office reminded everyone that Julius' Castle operated in the neighborhood for more than 80 years.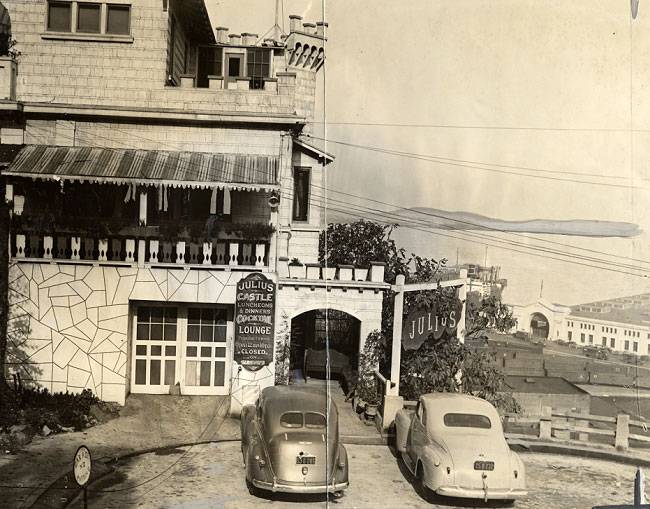 Photo: FoundSF.org
San Francisco County Superior Court Judge Cynthia Ming-Mei Lee threw out the complaints against the property and its owner, ruling that, among other things, the neighbors who filed the lawsuit had not properly followed city procedures for challenging the Julius Castle permits when they failed to exhaust their other legal options for challenging the permits before resorting to court proceedings.
The Judge cited the long tenure Julius Castle previously held as one of the main factors in her decision against the neighbors' complaint. Judge Lee said,
"The most compelling fact supporting the City's conclusion that reopening Julius' Castle as a restaurant does not constitute "unusual circumstances" is that it operated as a restaurant at the very same location under the same name for 84 years."
Photo: Bay City Beacon
Julius Castle was named for the original owner, Julius Roz, and designed by noted Craftsman architect Luigi "Louis" Mastropasqua. Its current owner is Paul Scott, a resident in the area who bought the property in 2012.
Commenting on the decision via email, City Attorney spokesperson John Coté called the case "a baseless lawsuit from the start," saying that "trying to argue that it was incompatible with the neighborhood was just nonsense."
Photo: San Francisco Superior Court
Owner Scott told CBS 5 that he plans to fully restore the place and reopen Julius' Castle by end of this year.
Sources: Wikipedia, KPIX 5 CBS San Francisco, Yelp, SF Gate