"Mount Olympus" Modern Development in Corona Heights Underway After 4 Years
Plans for a modern 10-unit development to be built in Corbett Heights – a micro-neighborhood in Corona Heights – below the summit of San Francisco's Mount Olympus on the southern border of Ashbury Heights, and on the northwest corner of 17th and Roosevelt have been in talks for four years now since 2014.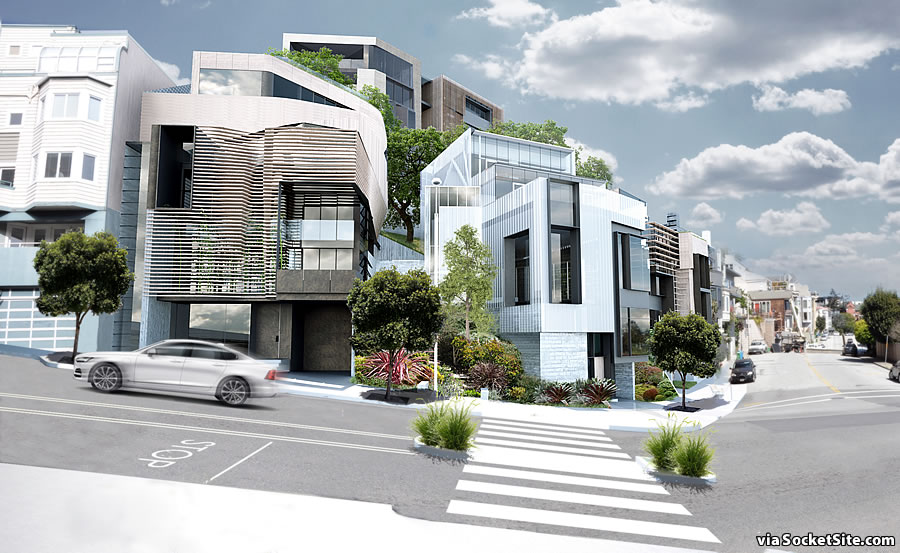 Render by Dawson & Clinton
Dawson & Clinton – a San Francisco-based, full-service general contracting firm specializing in architectural support, pre-construction, construction, remodels, renovations, additions, and new developments – said that to make the development happen, the single-family home at 271 Upper Terrace, which sits atop the site, was purchased, along with the undeveloped lot at 4500 17th Street below for $2.2 million 4 years ago in 2014. Both properties would be demolished. Whereas the duplex at 301-303 Upper Terrace, which was also purchased for $1.85 million, would be remodeled.
Photo of 271 Upper Terrace courtesy of Realtor.com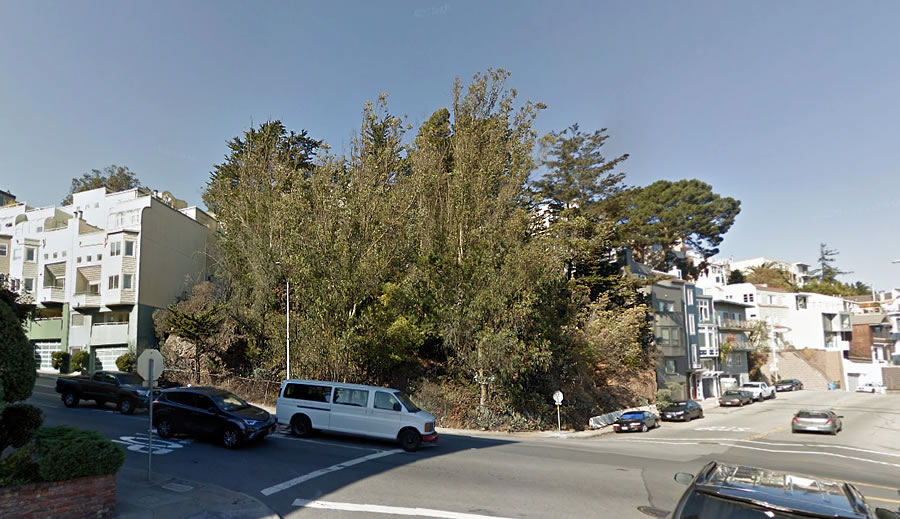 View of the site to be developed from 17th Street, courtesy of SocketSite
A view of the site from Upper Terrace. New buildings will rise on the left. Photo by Teresa Hammerl / Hoodline
The three mentioned lots would then be subdivided into five. Out of five, four would be duplexes that are to be 6-stories in height with 10 modern units in them along with parking for 15 cars. Three of the four duplexes would face 17th Street.
Photo: mtolympusproject.com
Photo: mtolympusproject.com
Recently, the San Francisco Planning Department have finally issued the proposed development a Preliminary Mitigated Negative Declaration, which, if upheld, would obviate the need for a detailed environmental impact report to be prepared, making the "Mt. Olympus project" is one step closer to reality.
Typical in San Francisco that whenever someone wants to build something, it will unavoidably face opposition. In the case of this development, while an appeal of the Preliminary Mitigated Negative Declaration was subsequently filed in May, the said appeal was remarkably withdrawn last week and the Mitigated Negative Declaration for the project was then quickly signed and issued.
Photo: mtolympusproject.com
Photo: mtolympusproject.com
As rendered above, if the refined plans for the proposed Mount Olympus development are approved and the ground is broken, the project team estimates that it would take around 3 years or so to complete – around 37 months. This timeline would include the required excavation of the existing hillside and the removal of about 13,640 cubic yards of soil.
Source: SocketSite, Hoodline, mtolympusproject.com