Iconic Joe's Cable Car Site to be Redeveloped
Joe's Cable Car has been at Excelsior district on 4320 Mission Street since 1965.
Photo: Deskgram
It started as a cable car that served to-go burgers to the locals in the area, and Joe Obegi, an Armenian native, worked there as a young man since it opened. Eventually, Joe took over as owner in 1968.
Photo: Story Arts Media
Over the years, the burger joint grew and evolved into a sit-down restaurant stuffed to the gills with neon signs, twinkling lights, and large floral bouquets reminiscent of funeral arrangements.

Photo:
Wikimapia
It gained even more popularity after TV personality Guy Fieri featured it on his show Diners, Drive-Ins and Dives.
Photo: Pinterest
Joe's Cable Car served its last ground steak sandwich recently, ending its 49-year run in a quirky building constructed to look like a cable car.
"The restaurant's 75-year-old owner and founder Joe Obegi is retiring, opting to close on his own terms rather than sell the joint and take the chance that his successor would not grind the fresh meat to the established Joe's Cable Car standards," per SF Gate. Obegi added that the address is slated to be converted condos.

"I had a guy who wanted to buy me out once. He was 65 and said he didn't want the money; he just wanted to keep busy. I asked about his background. He was a mechanic! I said he was crazy. This is hard work. We work our heart out. He would have ruined the business, ruined my name. So I want to end it clean. So people think I served good food. I don't want to have nothing to do with something like that," said Obegi.
It has been in the works since 2014, and locals weren't surprised when a permit was requested to the San Francisco Planning Department to raze the iconic Joe's Cable Car on the northwest corner of Mission and Tingley Streets.
San Francisco-based Fougeron Architecture is in-charge of designing a proposed contemporary four-story building that is slated to rise up to 45 feet in height, including a rear yard modification and the inclusion of the adjacent parking lot fronting Mission Street.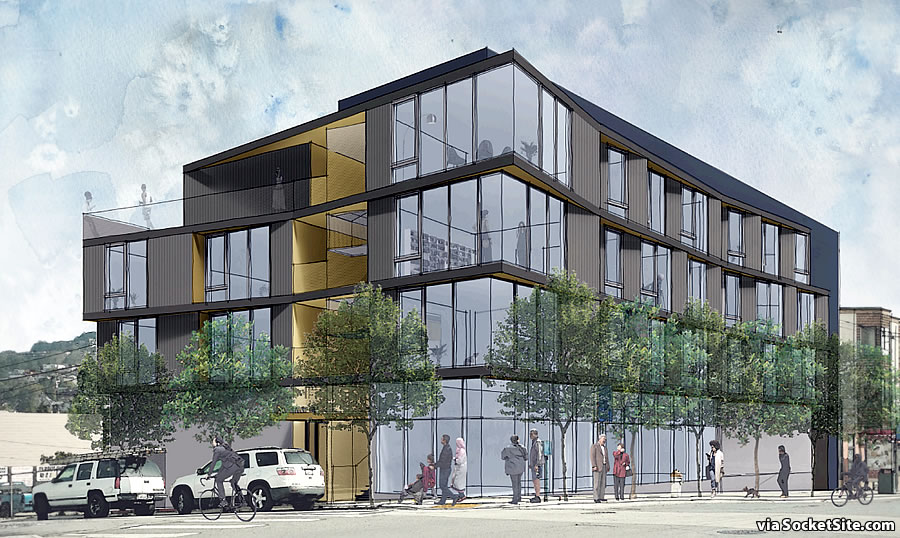 Per SocketSite,
"The proposed development would yield nine (9) residential units (a mix of one (1) one-bedroom, six (6) twos and two (2) threes) over 2,100 square feet of new ground floor retail space and an at-grade garage for three (3) cars, along with a new 2 Tingley Street address."
When when construction settles, the site where the burger joint used to stand will be unrecognizable but not forgotten.

Photo: SocketSite
Sources: SF Gate, SocketSite, SF Eater