Former Real Foods at Cow Hollow Soon to Become SF's 1st Shake Shack
Back about a couple of years ago, long-time healthy neighborhood grocery store, Real Food Company on Filbert & Fillmore Streets in the ritzy Cow Hollow neighborhood abruptly closed after 19 years of operation upsetting the locals in the area.
"Real Foods is central to the neighborhood which needs quality, basic businesses—not just restaurants and boutiques. It serves those who live near by, young families and their children, and the elderly," wrote a regular shopper.

"We have to have neighborhood grocers! They have to be walking-distance or short bus-rides away," wrote another. "If we have to go only once or twice a month to a big-box grocer, we have to use cars to carry back all we need. This location is vital to our community!"
Real Foods Co. (which dates back to 1969 as a company) opened its doors at the location in 1997 offering organic, non-GMO products, along with deli items, bath and body products and more.
Landlord troubles were the cause of the closure. Stephanie Hong, Real Food Co. CEO, said:
After owning the building for decades, our current landlords have decided to sell the property at 3060 Fillmore Street.  While the parcel is still zoned for a grocery store, there is no guarantee that we will be able to continue to operate as tenants.
Today, there are plans to convert the building on the southeast corner of Fillmore and Filbert into Shake Shack's first outlet in San Francisco, and it could be approved in three weeks time.
Shake Shack is a fast food chain based in New York City that started out as a hot dog cart inside Madison Square Park in 2001, and its popularity steadily grew over the years.
The original Shake Shack by Splinter News
Flagship kiosk location in Madison Square, now closed
It's a complete 180-degree turn from serving up the Cow Hollow neighborhood with organic healthy groceries to a nationwide fast food joint serving up foods high in fat and sugar that cause changes in our brains that make it hard to say no.
Founder Danny Meyer of Shake Shack promises Bay Area residents this:
They will be fine-dining burgers served in a fast-casual environment, and with better fries than the home-state favorite.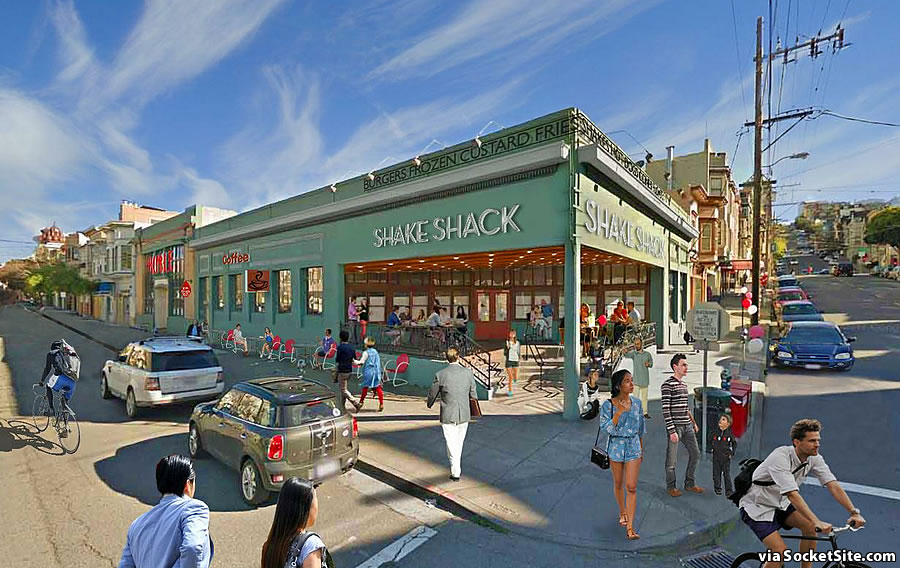 The proposed redevelopment of the 12,000-square-foot building includes a 900-square-foot coffee shop fronting Filbert and a 6,600-square-foot Rumble Fitness, the SoulCycle of boxing studios, as well.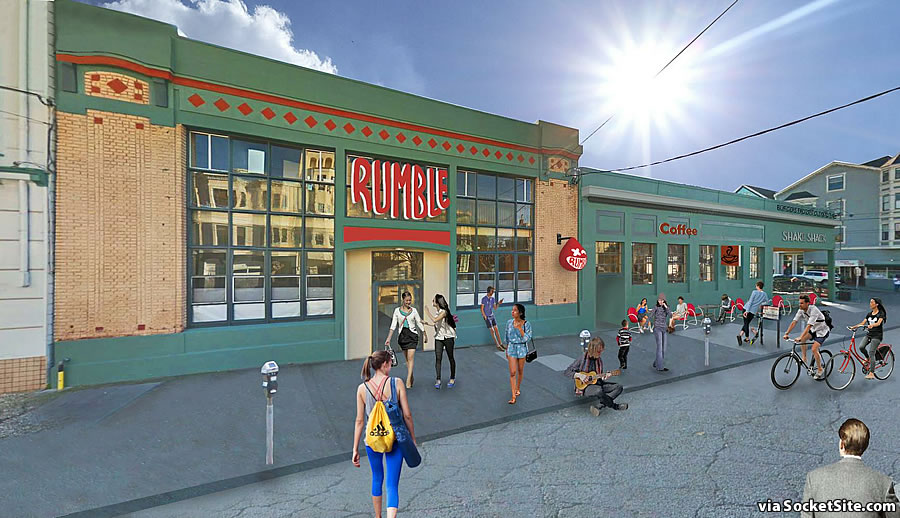 Sources: SFWeekly, SocketSite, MarinaTimes, Hoodline