Facebook-Funded Commuter Rail Line Over Dumbarton Bridge
Back on June of last year, 2018, the San Mateo County Transit District Board of Directors entered into a private agreement with a development team involving tech giant Facebook and Plenary Group – an infrastructure developer that specializes in public-private partnerships.
Photo: The Daily Mail
The project in the works is called the Dumbarton Transportation Project and involves potentially reopening the Dumbarton Rail Bridge for passenger service.
Photo: Plenary Group
Facebook is on board to renovate the defunct old Dumbarton rail bridge which currently sits unused in the middle of the bay running alongside the Dumbarton Bridge, and help ease the growing traffic congestion in Menlo Park and surrounding areas.
The public-private partnership will also help Facebook employees from the East Bay get to and from work.
Aerial photograph of Facebook, Menlo Park, San Mateo County, California courtesy of Flickr.com
The Facebook-Plenary-San Mateo County Transit District partnership even has a name (and a website). The partnership is called the Cross Bay Transit Partners (CBTP).
Photo: crossbaytransit.com
CBTP announced,
"The objective of the Dumbarton Transportation Project is to enhance mobility between residential neighborhoods in the East Bay and job centers on the San Francisco Peninsula."

"Together, the District and CBTP are exploring new, environmentally appropriate alternatives for a high quality, high-capacity public transit system. Once identified and implemented, these proposed transportation improvements aim to bring commute alternatives along with job and housing opportunities to the Bay Area. The Project may also facilitate mixed-use transit-oriented development at key transit connections."
The proposed line would initially link Redwood City and Newark, with a Menlo Park/East Palo Alto stop and the potential to extend to the line from Newark to Union City.
Photo: Wikiwand
They will build a high-capacity public transit between Redwood City and the East Bay, and the Peninsula, and also offer bike paths and walking paths for bicycle and pedestrians.
Dumbarton Bridge Bike Crossing photo courtesy of YouTube
The target to break ground is not until the year 2022, though it will be here before you know it. The public-private partnership will be hosting a series of community meetings to acquaint the community with the people in charge, the goals, the funding, timeline, and process, which are all also outlined below, courtesy of SocketSite: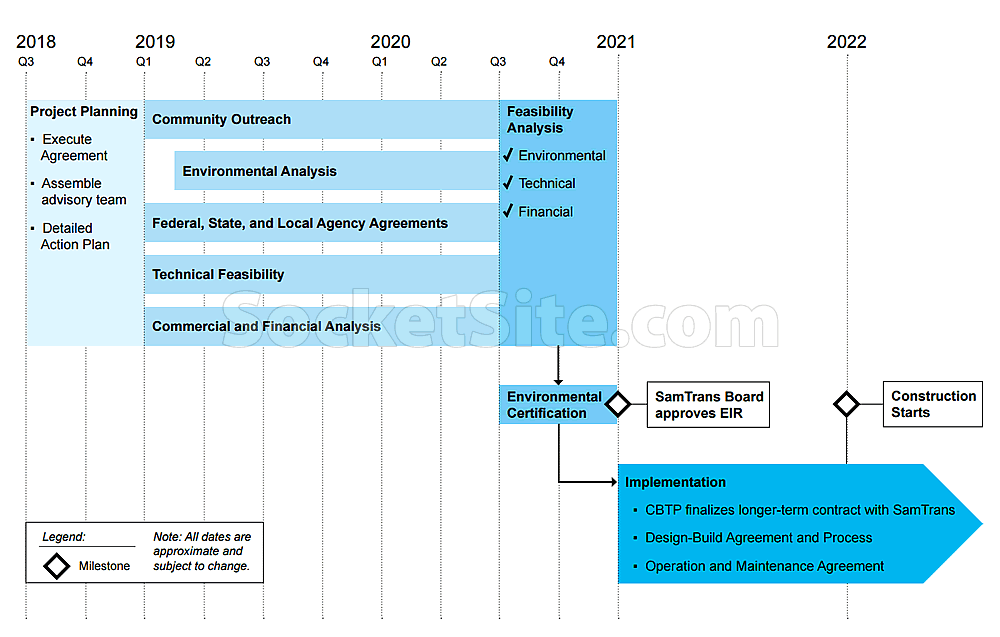 Sources: SamTrans, SocketSite, SF Chronicle, Railway Age, KTVU, CrossBayTransit.com, ConstructionDive.com