Developments Increase in San Francisco
The number of proposed development plans in San Francisco have steadily increased over the years and peaked in 2014 at 116.
However, it's been trending down ever since until this year, 2019.
Photo: Shutterstock
In the first quarter of 2019, the number of newly proposed plans for major developments in San Francisco totaled 17. This number is up from the first quarter of 2018 at 10. It's also slightly above average for typical first quarter activity based on records since 2010.
Photo: SF Weekly
The overall pipeline of apartments and condos under development in San Francisco has also increased this year 2019 up to a record 70,960. This is a significant increase considering that the average number of developments under construction is typically around 5,600 units, based on records for the past 10 years.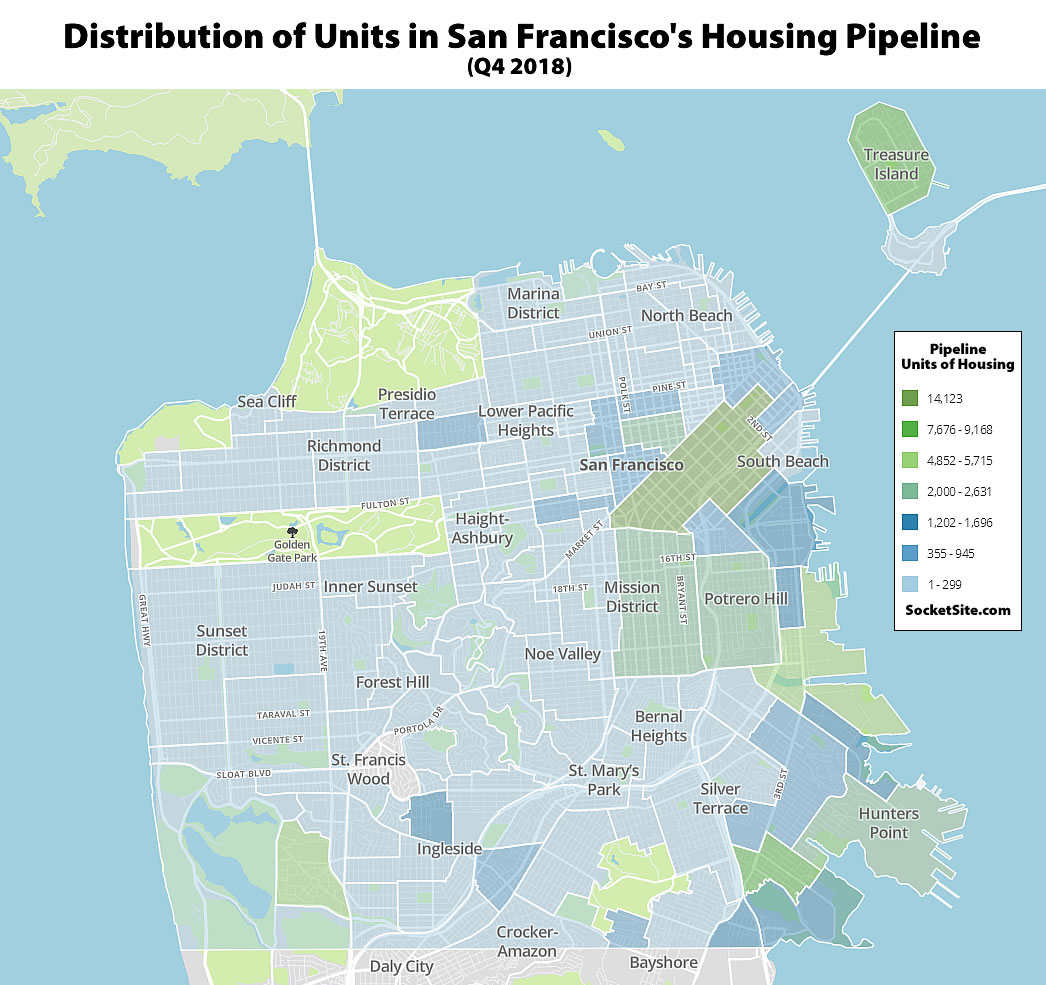 Some developments include:
Mission Bay in San Francisco

Photo: Square Foot SF/Steelblue
Mission Bay has already added thousands of new housing units, public plazas, a big Biotech imprint, and 580,000 sq ft of commercial/office space. But it's not done. Coming up is the Golden State Warrior stadium, Uber HQ, and Chase Center.
The 5M Development — $1 billion
Photo: Forest City
Comprised of three towers, the 5M development will cover four acres between 5th, Mission, and Howard streets in downtown San Francisco. The developers are building 688 housing units, 807,600 sq ft of office space, 50,000 sq ft of public space, and 35,000 sq ft of restaurants and shops. The Business Times pegs 5M's cost anywhere from $700 million to $1 billion.
Parkmerced — $1.35 billion
Photo: SOM
Over 5,679 new housing units will stretch across 152 acres when Parkmerced is complete around 2035. The developers say the masterplan includes 230,000 sq ft of retail, 80,000 sq ft of office space, and 60,000 sq ft of public space as well. Parkmerced's first phase is expected to wrap up by 2022 and includes five residential complexes that will add 1,000 housing units. Construction of the $1.35 billion development has not yet begun as developers are working on getting a number of building permits.
Mission Rock — $1.6 billion
Photo: Steelblue
Owned by the San Francisco Giants, the Mission Rock development is proposed to span 28 acres and prioritize outdoor public space. The site could include 1.4 million sq ft of office and commercial space, 1,500 units of rental housing, a brewery, and 8 acres of new and redeveloped park space with shops and cafés. Construction is set to start this year and is expected to cost $1.6 billion.
Source: SocketSite, Business Insider