Crypto Currency Did Not Go Into Effect on $6 Million Condo Sale
It was not announced, but the real estate local news, SocketSite, kept an eye on the activity and noticed that the cryptocurrency activity did not go into effect. Bummer.
We're talking about the recently renovated, former Second Church of Christ Scientist building-turned-swanky condo at 651 Dolores Street: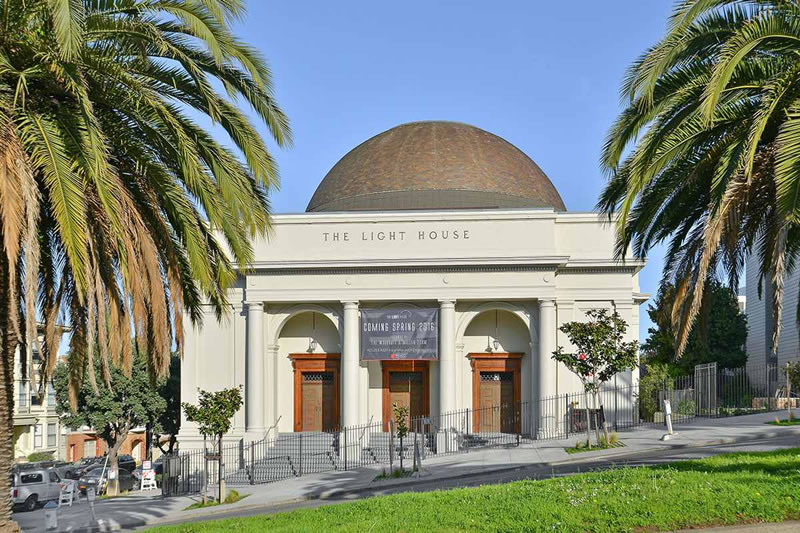 Photo: SocketSite

Photo courtesy of lighthouseondolores.com
It looks like a planetarium, a museum, or a church – and indeed it once was a church – renovated since from the ground up in the inside, and listed on the market initially for a cool $6.795 Million dollars back in August 2017.

Photo courtesy of lighthouseondolores.com

Photo courtesy of lighthouseondolores.com
Photo courtesy of lighthouseondolores.com
Photo courtesy of lighthouseondolores.com
The 5,493-square-foot "Light House" condo has these impeccable features:
An entrance from the grand salon into the great room with steel and wood staircase (using repurposed lumber from the building), and two sets of double doors that allow the space to be opened up or closed for privacy.
A grand salon and foyer lead into an amazing, designer-inspired home.
A great room with soaring 30-foot ceilings, original arched windows looking into the building's private park, and exposed brick and steel framing are a perfect counter point to the many original details restored by the builder.
A private wine room (with 15 foot ceilings) could also be used to house electronics and entertainment for the home.
A private den or club room or office below the extended loft.
A second sitting area/loft off the master bedroom overlooks the great room, and could be perfect for a home office, library or music area.
A restored staircase comes up from the grand salon to the master bedroom level, and then leads on up to the private 4th-level bedroom. Once again, amazing original architectural details and exposed brick.
4th-level private room with exposed brick and large skylight
Plenty of space for hosting social events, entertainment, and for displaying art.
A wooden paneling below the loft that is recovered and repurposed wood from the historic building.
Downstairs on the first level is a huge room can be used as a private theater, a playroom or a private home office.
A master suite/loft features an intimate bedroom area plus a second sitting area.
A master bath features a custom roman tub, separate stone shower, large vanity, exposed brick and a view into the private park.
A large second bedroom suite can be used as one huge room, or potentially divided into to two or even three separate spaces depending on the owner's needs.
South facing windows let in light all day long.
A full bath on the main level features exposed brick, granite shower and matching counter, and a view into the private park.
A chef's kitchen is removed from the main living area but open for a modern lifestyle.
Below the master bedroom loft and library is a private den and wine cellar or electronics room.
Photos below courtesy of lighthouseondolores.com:


Built for an A-list celebrity, or a high-powered public figure, or a tech billionaire, or anyone with millions, the property surprisingly offers little privacy as it sits alongside a busy street and the frequently-crowded Dolores Park.

Homes that stand out such as this one typically needs privacy and ample security. The chain-link fence that currently surrounds the property is just not effective enough to protect the wealthy. Obviously, the buyer would need to spend a pretty penny on a home security system, but the busy location at 651 Dolores St also doesn't offer much peace and quiet.

These were likely some factors preventing buyers of a certain tax bracket from putting in an offer – thus, the price tag was reduced down to $6.349 Million after one month sitting on the market. Then again down to $6.149 million at the beginning of 2018. And then down once more to $5.95 million – at which point, the folks at SocketSite report that the listing agents and brokers had added:
"Call agents re: sale with Bitcoin or Ethereum!!!"
Officially removed from the market at the beginning of this year, 2019, the 'Lighthouse' at 651 Dolores Street has re-emerged as a New Listing recently for $5.95 million – with an official "1" day on the market (DOM).
This time, however, there is no mention of Bitcoin, Ethereum, Litecoin, or any digital currency as accepted forms of payment. Cash is still preferred over cryptocurrencies this time.
Sources: SocketSite, lighthouseondolores.com